Bit of a departure from typical typical subjects today as I provide a quick review of a new web browser I've been using for the past few months, Comodo's IceDragon.
Despite being a big fan of Microsoft software, I can't profess to love everything they do [1]. Back in the days of Windows XP and Internet Explorer 6 I used to use Internet Explorer but even then, with no apparent competition, I knew it was garbage. As soon as Mozilla came along with Firefox I installed it and loved it since the start. The idea of tabbed browsing and installing add-ons to your web browser was great, plus it crashed a lot less. And Firefox's arrival opened up the browser wars again (one which both Mozilla and Microsoft are losing). Increased competition is usually a winner for the consumer, particularly in this case as web browsers are free. So there's no issue in downloading, trialling and then uninstalling if you don't like a particular web browser.
Over here in Europe, there's even greater encouragement to try out different web browsers; As a result of the decision in the European Union Microsoft competition case, Microsoft are legally obligated to provide users a choice as to what web browser to install. When a user opens Internet Explorer for the first time on a new machine, the web browser choice screen, also known as the web browser ballot box, displays twelve browsers in a random order. There's even the website BrowserChoice.eu that was created in March 2010 to allow users that had not made, or were unaware of, a choice to try other browsers. This may all sound a little trivial but the EU are serious in enforcing it's ruling: back in March of this year (20130) Microsoft were fined over $700 million dollars for failing to comply with the ruling. [2]
Ironically all this may come at a time that is too little too late, and the browser wars are perhaps less relevant these days what with the dwindling sales of desktop machines.
[caption id="attachment_1828" align="alignleft" width="106"] Comodo have also altered the GUI from Mozilla's Firefox[/caption]
Irrespective of that fact, computer security firm Comodo Group have recently released Comodo IceDragon. You have already heard of Comodo Dragon, which is a secure web browser that is based on the Chromium browser. Comodo IceDragon is an Internet browser based on Mozilla Firefox v22, which, according to Comodo, features "several security, performance and feature enhancements over the core build. Fully compatible with Firefox plug-ins and extensions, IceDragon combines the freedom and functionality of Firefox with the unparalleled security and privacy of Comodo." Most browsers focus on speed whilst others focus on customisation or extensibility, but Comodo's objectives with both Dragon and IceDragon is focusing on security without compromising on the speed.
Currently there is no 64bit version, but I have downloaded the 32 bit and tried it on both Windows 7 and Windows 8 in the past few weeks and I am very impressed. Comodo have taken Firefox and added 2 key features that piqued my interest in trying it out.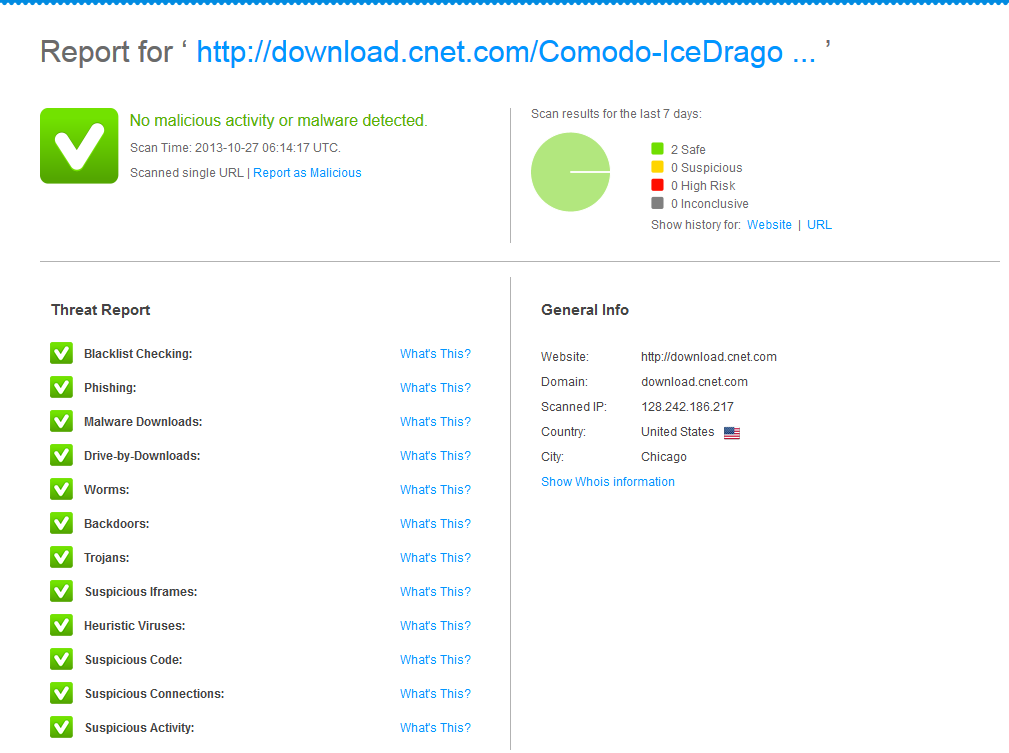 It takes a while for the scanning to run, like a good few minutes. When it is finished you can see from the results of the Threat Report that the scanning is very thorough, and you can learn more about the scanning by clicking the "what's this?" report. You even get to see domain registration details available via WhoIs, administrative contacts and a history of previous malware scans on that website.
This service replaces your existing DNS Servers and sends/receives all requests exclusively through Comodo's SecureDNS servers, which Comodo claims to allow for faster and more secure web browsing. SecureDNS references a real-time block list (RBL) of harmful websites. Comodo claim that this provides extra security by filtering out phishing, spyware and malware websites etc.
Using a service like SecureDNS means that and threat is scanned and detected before you visit the url itself, wheras for anti virus software to detect the threat the page has to be loading. This is by no means a bad thing, however something like SecureDNS, a free service provides an extra layer of security without any additional hardware or software installation.
Additionally, you can choose:
Ok, but How much Faster is "Faster"?
Comodo also claim that unlike other DNS providers, DNS requests that are handled via SecureDNS are answered by the closest available set of servers, resulting in information becoming available faster. As I use fibre optic (swish!), I'm not really that bothered about the SecureDNS service being "faster", but at any rate I wanted to know how much faster was "faster"? I ran a speed test from speedtest.net three times from Firefox and three times from IceDragon and compared the results. Below are the fastest runs from each one (top Firefox, bottom IceDragon):
[caption id="attachment_1819" align="aligncenter" width="751"] Firefox[/caption]
[caption id="attachment_1820" align="aligncenter" width="751"] IceDragon[/caption]
[1] I tried Windows Phone and liked it, but it wasn't so much the lack of apps that put me off but the lack of specific apps that I needed that put me off (like Parrot's decision not to support Windows Phone and make an app for their headphones that removed most of the functionality for me. )
[2] As a total digression, back at TechEd 2012 there was a lunchtime Q and A with Jeffrey Snover. Jeffrey is a great guy and he was talking a lot about PowerShell, and one of the things he talked about was why they made PowerShell from scratch instead of extending something like cmdline. Essentially there was too much entanglement between Microsoft's products and pointed to Internet Explorer as a great example: it's impossible to uninstall Internet Explorer completely because so much of what is encoded within IE is also used elsewhere in Windows. He said that he was skeptical himself when Microsoft stated that you cannot uninstall IE, but it really is true because of the amount of shared code. Jeffrey may work for Microsoft, but at the same time I think he's an honest guy and actually not the Ballmer-type cheerleader for everything Microsoft does and I totally take him at his word on this.